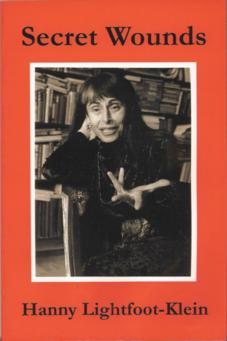 Secret Wounds
Secret Wounds is the long-awaited final segment of Lightfoot-Klein's trilogy. Once again, the subject of her impassioned treatise is the genital mutilation of non-consenting minors, whose practice has not only been culturally embedded in Africa over millennia, but which has been medicalized in the United States on male, female, and intersex children since the mid-eighteen hundreds. Her two earlier, ground-breaking and award winning books, Prisoners of Ritual and A Woman's Odyssey Into Africa, published in 1989 and 1992, are still in print and continue to be regarded as two of the most important works written on this baffling subject.
In Secret Wounds, this pioneering author's exciting new book, she interweaves her astute personal insights with the wealth of information she has accumulated over 24 years of intensive study. She explores the tyrannies of custom and societal control, under whose unyielding domination these cruel rituals continue to exit, and why attempts to abolish them have consistently failed in the past.
In this, her most up-to-date-work, Lightfoot-Klein documents the successful means by which many of the former adherents to these harmful practices have been persuaded as individuals or in groups to abandon the mutilations and to persuade others to follow their examples.