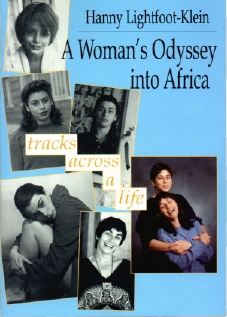 A Woman's Odyssey Into Africa: Tracks Across a Life
Alice Walker
"It is my hope that every woman in the world will read this book."
---
Gloria Steinem
"Any reader who has dreamed of breaking out, of leading a direct instead of a derived life, will be inspired by A Woman's Odyssey Into Africa. In the birthplace of all humankind, Hanny Lightfoot-Klein shows us that if we dare, we ourselves can be reborn."
---
Here is what the experts say about A Woman's Odyssey into Africa:
John Money Ph.D., Professor of Medical Psychology and Pediatrics, Emeritus, Johns Hopkins University
"A stunning double helix of a story. One strand of the helix is the odyssey of her African adventure. The other strand is the odyssey of her personal demon who catapults her, at the age of fifty, into Africa. The African strand becomes a metaphor of redemption from the haunts and ghosts of childhood and young womanhood. THE TALES OF THIS FEMININE ULYSSES ARE TOLD BY A VIRTUOSO PERFORMER OF THE NARRATIVE ART.
---
Heino F. L. Meyer-Bahlburg, Ph.D, Professor of Clinical Psychology in Psychiatry, College of Physicians and Surgeons, Columbia University
"I read the book from page one to the end in one night and could not put it down. A RAY OF HOPE FOR WOMEN WHO FEEL RESIGNED TO UNFULFILLING LIFESTYLES, A BREATH OF FRESH AIR FOR ALL WHO WRESTLE WITH MIDLIFE ISSUES, and a marvel for those who admire Western individualism."
---
Ashley Montagu, Ph.D., Professor Emeritus Cultural Anthropology, Princeton University
"Her adventurousness and courage make this extremely readable story A SOURCE OF INSPIRATION TO OTHERS WHO MAY WELL BE EQUALLY DESPERATE TO CHANGE THE COURSE OF THEIR LIVES. Her profoundly human account is also a tale of high adventure, one which makes for engrossing and altogether enjoyable reading."
---
Review by WYOU-TV, Madison, WI
Hanny Light-Klein's A WOMAN'S ODYSSEY INTO AFRICA recounts the author's six year solo backpacking treks thorough remote regions of Africa, exploring both her inner and outward journey and challenges. This dual focus probes more deeply than most such travelogues, considering inner change as much as encounters with other peoples across Africa. While other African-set autobiographies have weighted themselves on the side of cultural experience, this book uses Africa as a basis for considering the realities of living and dying, presenting some shocking scenes and insights in the process. Lightfoot-Klein offers an experiential journey which is nearly impossible to put down.