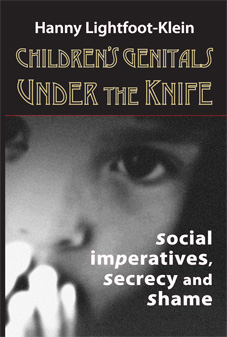 Children's Genitals Under the Knife: Social Imperatives, Secrecy and Shame
Here is what the experts say about Children's Genitals Under the Knife:

Ava Rosenblum, Ph.D., Sociology Teacher
Hanny Lightfoot-Klein is one of the true pioneers of global feminism. I am moved by the passion and authenticity that she brings to her writing.
---
Badria Bedri, Sudan
Ms. Lightfoot-Klein's writings are not offensive to Africans because they explain why we do what we do, rather than criticize us for what we do. She is a courageous and outstanding humanist for taking on this crime against humanity as her life-long task.
---
Tobe Levin, Non-resident Fellow, W. E. B. DuBois Institute, Harvard University and Collegiate Professor, University of Maryland U.C. in Europe
This is the book we activists have been waiting for since Prisoners of Ritual, that early classic by a tireless researcher and author who has inspired so many of us to confront female genital mutilation in all its complexity -- as a rights violation to be sure, but one that Lightfoot-Klein illuminates as a person among people, bringing her own humanity to international campaigns. Hers is a unique, resonant and humble voice for change.
---
Petra Schnüll, Terre des Femmes
An important compendium of contemporary aspects of genital mutilation -- including the little known problem of intersex-surgery and much-debated male circumcision in the United States... READ!
---
Mario Russell, J.D., Professor of Human Rights Law
What an example of good, hope and possibility you are. Thank you for Being and being in the world.
---
Ulysses Nabal Jaen, Esquire
Finding Lightfoot-Klein was a stroke of brilliant good fortune. Through her intervention our claim for FGM protection took life. We obtained asylum for both our clients!...Definitely one of the high spots of my life.
---
Chelsea Cawley, Sociologist
Your book Prisoners of Ritual was the sole unbiased backbone for my research paper....Your dedication and pursuit of truth was unmatched by any other author I could find... Thanks so much for all your unbiased research,.. you are a true professional and unique at what you do.